Our Kitchen Display System & Order Queue Helps You Survive the Rush
---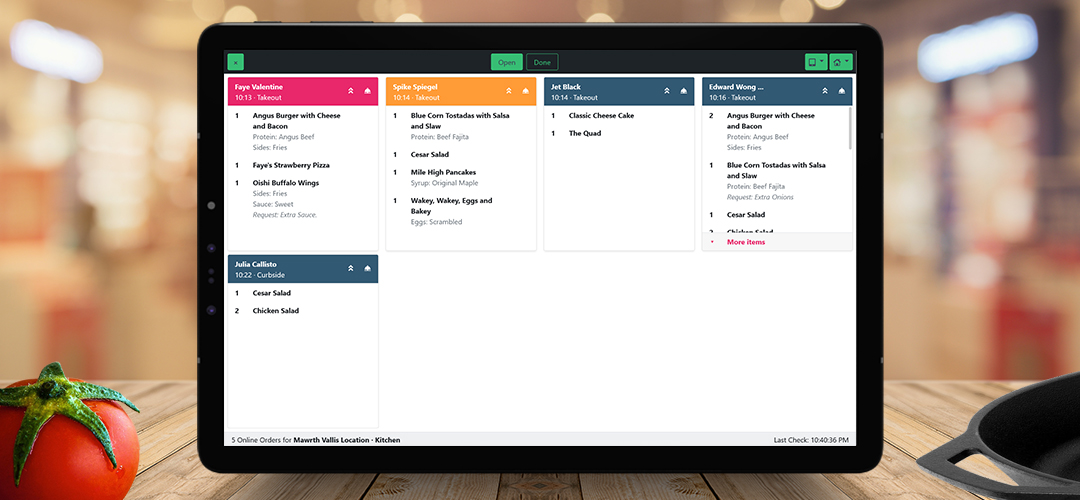 Akiracart
2021
To help restaurants provide better service to their customers, we've integrated a Kitchen Display System and Order Queue System into Akiracart. These tools will help restaurants increase staff efficiency and reduce human error when managing orders.
What is a Kitchen Display System?
Kitchen Display Systems are becoming the norm for tracking and updating order status information, especially for restaurants where efficiency and quick turn around are key.
With a Kitchen Display System, not only will you be able to provide top quality service to your customers, you'll be able to do it as efficiently as possible.
With our KDS, your kitchen staff will be able to:
View order and order item information.
Track and mark orders and items complete to update your other displays in real time.
Track orders between multiple locations.
Pass order tickets to their needed areas (example: from kitchen to salad bar).
Be visually warned when orders are nearing their estimated time of completion.
View completed orders and be able to recall them if an error was made.
Our KDS has been designed to be mobile friendly, can be displayed across various screens and sizes, has audible notifications when orders have arrived or have been completed, and has an easy-to-use user interface with a focus on prioritizing immediate orders.
In addition to the Kitchen Display System, we have integrated an advanced Order Queue System for your front-end staff as well.
What is the Order Queue?
Akiracart's Order Queue is an order tracking system for your hostess and cashier. Order Queues are essential in tracking the status of orders and modifying them if the need should arise.
With our Order Queue, your kitchen staff will be able to:
Track and view order information.
View basic customer information.
Track the status of an order, from station to station, and from completeness of order items.
Refund orders using an optional supervisor PIN.
Mark orders complete.
The combination of our Kitchen Display System and Order Queue are essential in increasing the efficiency of your restaurant so that you can be a vying force in an increasingly competitive industry.