Don't Let Delivery Apps Steal Your Sales
---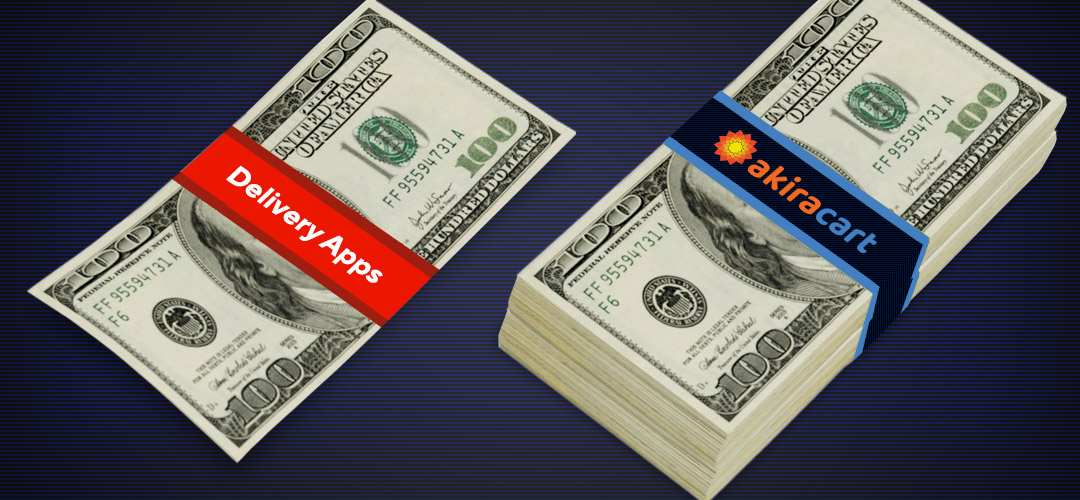 Akiracart
2021
The restaurant industry is competitive, which means that owners are always looking for new ways to attract customers.
For restaurants to attract more customers, they need to meet the desires of today's modern customers. A major expectation is that restaurants implement a digital ordering system.
With the rise of third-party delivery services, it's easy for customers to get their meals without ever having to step inside a restaurant. While this can help boost sales for restaurants when it's done right, when done wrong, this can lead to delivery services stealing revenue away from restaurants.
Put the control back in your hands with a dedicated digital ordering system rather than depend on delivery apps to handle your online ordering and delivery.
What is a Website Ordering System?
A digital ordering system allows customers to order directly from your website. It's responsible for taking orders, processing payments, and delivering the food just like a third-party delivery service would.
However, one of the key differences between this type of system and third-party services is that it provides more control over your online presence.
When you implement an online ordering system, you can design your business' website as you see fit. This allows businesses to provide a unique experience for customers.
Why Your Restaurant Needs a Website Ordering System
Attract More Customers
To attract new customers, restaurants need a robust online presence.
Having an online ordering system for your restaurant is the best way to optimize sales and give your restaurant's website an SEO boost.
By equipping your restaurant with a fully functional online ordering system, you will attract more customers rather than direct them to another company's pages.
Save Costs over Third-Party Delivery Services
Restaurants that depend on third-party delivery apps to handle their sales end up paying upwards towards 35% commission rates and hidden fees.
If your restaurant does not have an online ordering system, you're most likely losing potential sales and wasting money by paying for third-party services to handle your delivery needs.
Enhance the Customer Experience
Building your own online ordering system will enable customers to browse your menu whenever they are online.
Having an online ordering system will give customers the convenience of ordering food, while not being advertised to by your competitors, which is something that third party delivery apps do.
Control Your Sales
Restaurants with an online ordering system can choose what commission they pay third-party delivery services and negotiate the price of their sales.
Not only will you be gaining more control over your sales, but you'll also be saving yourself a lot of money because you won't have to pay as much in commission.
Reach Patrons Better with AkiraCart
For businesses ready to take their restaurant into the future, AkiraCart offers a seamless online ordering system built for digital transformation.
AkiraCart offers both small restaurants and large enterprises the opportunity to build an online ordering system that's perfect for their business. As an integrated digital system, AkiraCart has the features restaurants need to reach customers better:
Online Ordering: Customers can order in real-time during restaurant hours or schedule ahead an order in the future.
Beautiful User Experiences: AkiraCart provides a great user experience for both users and restaurateurs.
Menu Management: Create, modify and curate your menu so that it's up-to-date and accurate.
Order Management: Manage all of your orders from a single dashboard with real-time tracking, order history, and more.
Email Marketing: Advertise to your customers by using AkiraCart's email marketing system to notify them of promotions and specials.
Free Ordering System: AkiraCart has included an option, within its panel, where restaurant's can bake in AkiraCart's low fee into their item's prices essentially making AkiraCart free to use.
With AkiraCart, restaurants can build an online ordering system that's optimized for them. Boost your restaurant's sales with an online ordering system and take control of your business. Want to take a test drive? Check out AkiraCart's demo here.