Reward Your Customers For Their Continued Support
---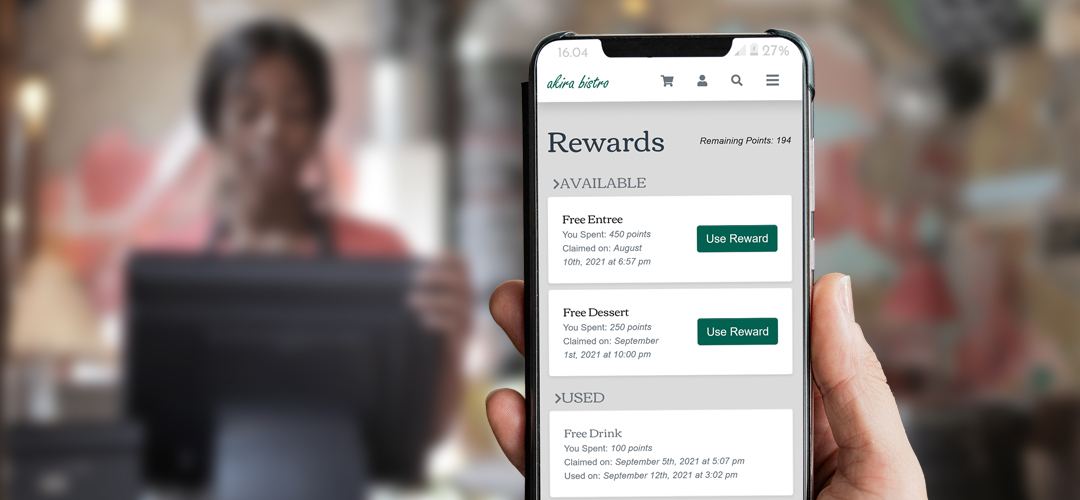 Akiracart
2021
Customer loyalty programs are an essential tool for restaurants to retain their customers. These programs are a proven and effective way to get customers to frequent your restaurant more often, and a passive way to say thank you for choosing your establishment over anybody else.
Why Use a Customer Loyalty Program?
The intention for restaurant loyalty programs is to retain returning customers and to entice new customers to frequent your business more often. If your customers are happy, and they are given attractive offers for coming back, you'll benefit by growing a loyal customer base.
How Does Akira Cart's Customer Rewards Program Work?
Akira Cart's clients use their website's rewards program to list coupons and tangible items that can be redeemed using points their customers earn from purchases made through the websites Akira Cart creates.
Using Akira Cart's rewards program, you can:
List coupons, as rewards, that automatically generate a unique one time use coupon for the customer who redeemed it.
List tangible items that can be redeemed online and then picked up at anyone of your locations.
Adjust the point cost for a reward.
Adjust the value of a point.
Alter the lifespan of a point.
Once rewards are redeemed, your customers will be able to access and use them within their accounts.
Create and send coupons, as rewards, to customers which will show up in their account for them to use when they log in.
You can create rewards and send them off in bulk using our email marketing tools.
As you can see, the combination of Akira Cart's Customer Loyalty Program, their Coupons system, and their Email Marketing capabilities, can be great assets in helping restaurants to retain their customers.